At topmed. We are committed to ensuring your safety every step of the way,by crafting surgical gowns with integrity and care, we are proud to give you everthing you need. So you can be certain that you have the right gown for every procedure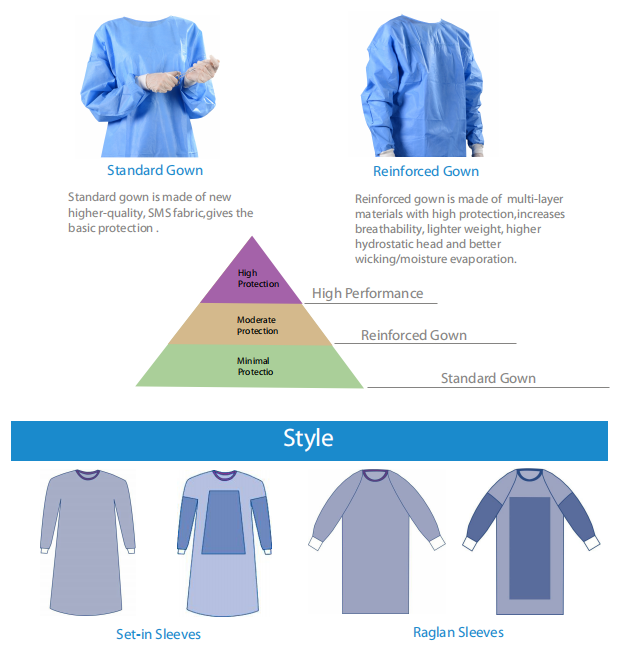 The Advantages of Raw material:
The Material is SMS,the material have good properties, such as soft clean, good filtration and uniformity and waterproof, they are not sensitive to human beings, difficult to fluff, they don't have any peculiar smell, other matters and primary color. In a word, they are desirable sanitation material. The surgical gowns by suing the materials have properties such as:
1. they have enough strength and good waterproof, they offer a credible barrier for medical personnel and can effectively block liquid splash which is often take place in operation.
2. They have low rate of falling crumbs, do not have noise in abrasion and on't glisten in lamp. And are easy to sterilize. They can be decomposed and don't have any pollution to environment.
3. The materials offer safety and comfort for doctor and nurse because of softness and waterproof. In the meantime, because the surgical gowns have good performance of water-resist and liquid-separate, the oozy liquid in operation can be effectively obstructed to prevent the bacteria infection.
The advantages of production:
Standardized components with high degree of generalization.
Topmed could provide you kind of protection gowns, such as surgical gown with EN13795-1,isolation gown with EN13795-2 under the European standard. Level 1 level2 level 3 under the United states standard. CPE gown with LEVEL 3 test report. Also coveralls
The advantages of environmental:
We have 100000 class laboratory and cleaning room for all the products,also big and cleaning warehouse , we have set up stable cooperative relationship with ten big raw material factories to satisfy the customer's delivery date requirements.
The General usage:
Protective gowns are especially designed for the medical personnel using in operation. The medical personnel are dressed with them in operation so that the blood. Body fluid and exudation of patients. Which has potential infection, can be obstructed effectively to prevent the bacteria infection.